RESIDENTS of Bretema, a farming community in the Suhum municipality led by the Krotihene have vowed to stop the construction of toilet facility on the Bretema Local Authority (LA) Primary and Junior High School Park.
According to the charged residents they would resist construction of the toilet as all efforts to site the toilet in a different location has fallen on death ears.
Addressing a news conference to register their displeasure over the subject matter, the Krotihene, Baffour Sakyi indicated that he would not allow the construction of the toilet facility.
According to him, though his people need the toilet facility, they are against the location and called on the Municipal Chief Executive (MCE), Margaret Dankwa Darko, to reconsider her  decision.
The Krotihene of Bretema averred that the place where the facility is being constructed serves as recreational centre for his people.
According to him, the community would be glad to give the Assembly any size of land elsewhere to construct the facility.
He regretted that when he met the MCE to persuade her to change the location of the toilet facility, she rejected the idea and  insisted on going ahead.
The Municipal Chief Executive (MCE) Margaret Dankwa Darko when contacted for her side of the story said "the Krotihene is a liar who is only there to frustrate the development of the Akufo-Addo led government.
She explained that, the Krotihene is an illegal miner and because he and other team of illegal miners were asked to stop operations, he has vowed to fight any development sent to his community just to make the government unattractive, an accusation the Krotihene denied when he was also contacted.
The MCE further told The Chronicle that she serves a living God   nd that nobody can bring her down.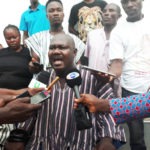 To her, the Krotihene and some media practitioners in the country have been bribed by some faceless people to make her administration unattractive but because her God lives, nobody can make her unattractive.
When this reporter pushed further to know these faceless elements, she only said "I have answered what I have to tell you. I have visitors that I have to attend to," and then hanged up.
source: Ghanaian Chronicle