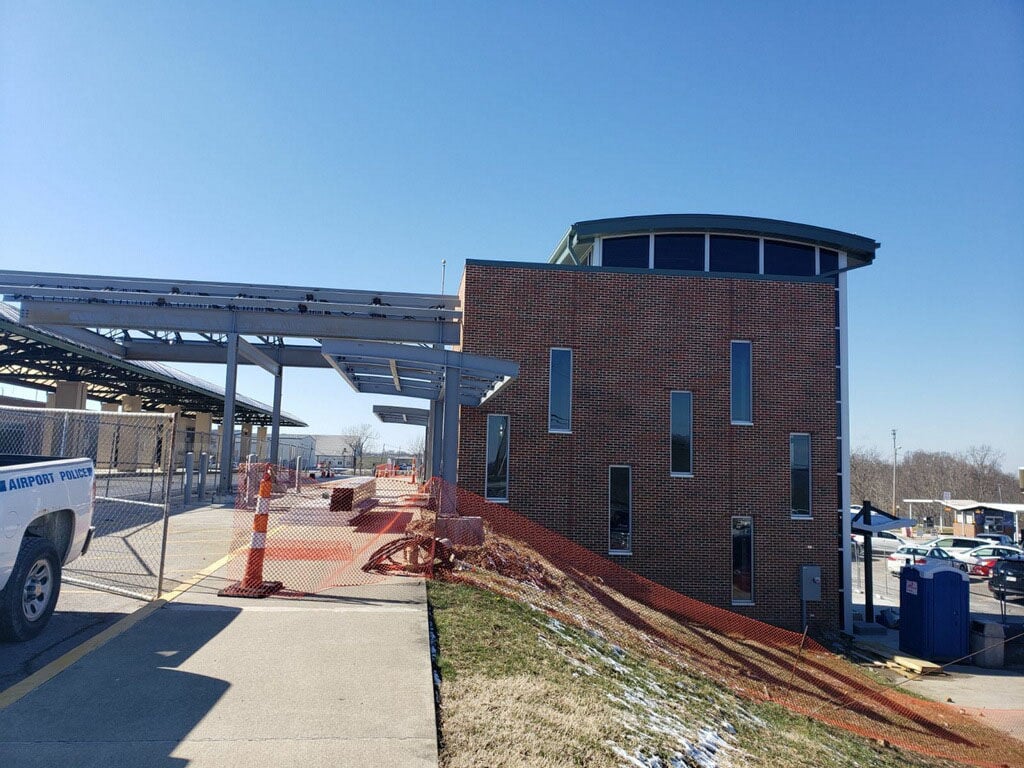 CEREDO — The year 2018 was one of the most successful for Huntington Tri-State Airport (HTS), which is now looking to build off that momentum in 2019.
In the past year, a number of improvement projects began and are expected to be completed within the coming year. In addition to cosmetic and safety improvements, the airport is also aggressively pursuing new destinations to offer customers in an effort to make traveling easier for area residents and to provide options similar to Yeager Airport in Charleston, located 63 miles east of HTS.
Allegiant Air - one of two commercial airlines offering service to a from HTS - this year announced the addition of a fifth destination for customers.
The airline announced mid-February that it will offer twice-weekly nonstop service from Huntington Tri-State Airport to the Florida Panhandle via Destin-Fort Walton Beach Airport beginning June 6. Flights to and from the new destination will be on Sundays and Thursdays.
With the addition of this new route to a region that is called the Emerald Coast, Allegiant will now serve five cities from Huntington Tri-State Airport.
Huntington Tri-State Airport Director Brent Brown said he would continue to pursue a new direct route to Chicago after American Airlines declined to support one.
Brown, speaking at a Huntington Tri-State Airport Authority meeting in February, said he had been working with an airline consulting firm to secure a letter of support for nonstop flights to Chicago's O'Hare International Airport. Currently, American Airlines offers connecting flights to Chicago.
"At this time they don't want to offer a letter of support," Brown said. "If we were to get a new route, specifically Chicago, it will be several years out."
The ultimate goal is to allow for easier west-bound travel from Huntington Tri-State. Currently, all connecting flights are further east than the airports location, with heavy travel coming to and from Charlotte Douglas International Airport in North Carolina. A destination like Chicago would eliminate backtracking and allow travelers a stop en route to final destinations in the Midwest and western regions of the country.
"It just allows our community to expand both incoming and outgoing. Being so close to Charleston, it allows people to compare prices. adding more routes give our customers more options to factor in to their decision on where to fly from."
Brown said airport records indicated HTS saw greater than 100,000 deplanements in 2018 - a number that factors in to the allowance of additional destinations, regulated by the Federal Aviation Administration (FAA).
"Airlines are able to use those numbers and figure out if a new route makes sense. What happens is, when they add a new route, they would pull an existing route to include us in their roster."
President and CEO of the Huntington Area Development Council (HADCO) David Lieving said the success of HTS has a direct impact on the local economy as well as future industry growth in parts of Wayne County and other surrounding areas.
"The airport has really improved, and its an important part of the economy here in this area. When we talk to international companies, they want to know where the closest international airport is located and how options on how to get from there to here," Lieving said. "We are a regional airport to Kentucky, Southeast Ohio, as well as part of West Virginia. We have to have good air service in order for us to grow economically."
Two major ongoing airports projects are expected to be completed by the end of summer 2019.
In May 2018, construction began on a dual elevator and covered stairwell with the goal of making the airport's entrance more accessible to travelers parked in the main long-term parking lot.
The $1.2 million project was originally expected to be completed in August or September of 2018, but according to Brown, construction was slow moving over the fall and winter months due to weather restraints, citing the significant amount of rain in the region has delayed progress.
Still, the dual elevator and stairwell is expected to be completed and in operation by late May or early June 2019. Construction plans now include an extension of the canopy in front of the airport that will connect with the new structure, which was not included in the original plans for construction.
"When we started the project, it was just an elevator. Now we've gone in and added a canopy that will extend from the existing canopy in front of the building and connect to the elevator building. Not only will it be a little more aesthetically pleasing but also will add some needed coverage to protect travelers from any foul weather or even the heat in summer months," Brown said.
The Taxiway Alpha Relocation Project, is also projected to be complete by the end of summer.
Brown said the relocation of the taxiway running parallel to the main terminal came about after administration learned the current location did not meet FAA safety requirements.
"We are reconstructing and relocating our current taxiway Alpha East," Brown said. "We are moving that taxiway 75 feet to the north, further away from the runway, which will give us the appropriate distance from the taxiway to the runway."
Work began in April 2017 and was initially planned to be completed in September 2018, but the timeline was also delayed by weather.
At a cost of $13 million, FAA grant money is being used to fund the project, as well as some assistance from state government.
Luke Creasy is a reporter for HD Media. Follow him on Twitter @HDcreasy.
About Huntington Tri-State Airport
SERVICES: Huntington Tri-State Airport handles commercial airline, air cargo, military and general aviation traffic.
LOCATION: Tri-State Airport is located approximately 9 miles west of Huntington in Wayne County.
DESTINATIONS: HTS has two major airlines serving five non-stop destinations, including: Charlotte, Orlando, St. Petersburg/Clearwater, and Myrtle Beach. General Aviation services are provided by the Huntington Jet Center (FBO).